Jumps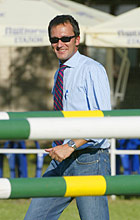 Olaf Petersen Jr Jumps are produced with the highest quality materials for the various different purposes. Our designers creativity deposited in every new jump design make show jumping a fun and colorful sport.
Everyone likes the challenge of a jumping a difficult unique jump. They also should present the vast variety of our sport and the different places and cultures presenting it.
Showjumping is growing worldwide and finds more and more friends everywhere. It seems that it will up until most of the countries of the globe will be participating. Wouldn't it be nice not to see the same kind of jumps and courses everywhere?

Please choose your category: